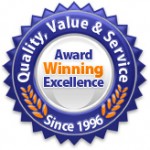 Who wants to reduce their email spam? Who wouldn't?  is probably the better question.  The average small business owner wastes precious time each day slogging through spam emails that clutter up their inboxes and obfuscate important emails.
If you hate the thought of opening your email each day because of spam, here's a simple method for reducing the volume of spam emails you receive: sign up for a throw-away email address.
 What Is a Throw-Away Email Address?
Throw-away or disposable email addresses are temporary email addresses that forward relevant emails to you but discard spam messages. Once you receive spam on a disposable address, you can disable it. Spammers who harvest throw-away or disposable email addresses end up with a useless email address that bounces back undeliverable messages. More importantly, you know exactly which website gave away your address, since throw-away or disposable emails are used once per website.
When Should You Use a Disposable Email Address?
You can use disposable or throw-away email addresses for any number of reasons, but some of the more common ones include:
You're leaving comments on a blog or website and don't want to use your real email address on the form;
You don't want to post an actual email address on your blog or website, but a hyperlink won't work;
When a website requires you to enter an email address to access its contents.
Disposable email addresses forward messages into your real inbox. Turning off the disposable email address doesn't affect your real email address, so that you'll still receive messages sent to your actual address by colleagues, friends and anyone else who has your direct address.  You can set up numerous disposable email addresses, too; there's no limit to how many you can have, and you can change them as often as you like.
 Where to Find Disposable Email Addresses
Many companies offer disposable email addresses. A few of the better known ones include:
E4ward: E4ward offers free disposable email addresses at one convenient website. If you receive an unwanted email through their service, you can easily switch to a new throw-away email address.
GishPuppy: A simple service that puts you in control of your email address. Create a new throw-away email address as often as you want.
Mailinator: Mailinator works differently than the typical throw-away email. Your emails are sent to a web page, where you pick up the emails, rather than have them forwarded to your address. It's sort of like the old-fashioned forwarding of snail mail to a general mail box or a post office; you have to actively pick up your mail, and it's not private. Nevertheless, it can cut down on your spam emails.
Of course, there are many other disposable or throw-away email services out there. These are just a handful to show you what is available. Make sure you read each service's terms of service before signing up, and take a look at their FAQs or other documentation so that you know exactly how your messages will be received and stored, just in case something comes through that's not spam.
Cutting down on spam email is on everyone's to-do list. Hopefully it just got a little easier for you with this advice.
Web Design of Palm Beach offers professional hosting and web design services. We can help you cut down on spam and improve your website. Contact Web Design of Palm Beach.  Call us at 561.262.5886