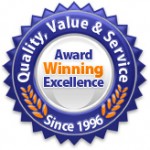 Captcha can be a blessing or a curse, depending on how you – and more importantly, your customers – look at it.  Captcha refers to those ubiquitous boxes after a contact form that orders you to type what you see into a blank box below the symbol. Sometimes Captcha forms make it easy to see the letters, numbers of words. Other times, however, you feel as if you're at the optometrist's taking an eye test; the letters look too small, too weird or you can't see them at all.
Are there benefits to using Captcha? Indeed there are. To Captcha or not to Captcha, that's the question…and we'll help you decide by giving you the pros and cons of Captcha.
Pros of Captcha: Why Use Captcha?
There are numerous benefits to using Captcha on your web forms:
It's commonplace, so most of your site visitors will understand immediately what they're requested to do. So many websites use Captcha that it's the rare individual who has never seen or used one of these forms protected by Captcha. Because it is so common, most users have no objection to using it.
New software makes it easier to implement and use it. Newer versions of Captcha are making it easier to implement and use Captcha on multiple platforms.
It's effective. Captcha does indeed cut down on the amount of bogus contacts received through web forms. It's still the standard for protecting web data and forms from harassment online.
Disadvantages of Using Captcha
Like most things in life, there are also disadvantages to using Captcha on your web forms.
Although it's common, Captcha does tend to annoy site visitors. There may be a decrease in the number of forms submitted or sign ups received once you implement Captcha.
It can't prevent all spam. Nothing can. Some will still leak through.
Captcha can't be seen by people with sight impairment, and many people with perfect vision can't figure out some of the squashed characters in a Captcha presentation box.  Although audio messages can make Captcha useful for the sight impaired, it really can be a pain in the neck to decipher at times.
 Should You Use Captcha?
At Web Design of Palm Beach, we believe in using all the tools in your webmaster's toolbox to prevent spam. We offer both Postini spam filtering and Captcha technology for your website at very reasonable rates. Both services can drastically cut down on the number of annoying, time wasting emails from spammers.
Captcha isn't the end all and be all of spam prevention, but it can dramatically help you keep your peace of mind when dealing with unsolicited emails. Contact Web Design of Palm Beach today to implement these and other spam-busting measures intended to safeguard your email address and website from exploitation. Call us at 561.262.5886 to learn more or visit our website to test drive our Captcha services.