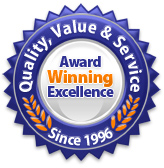 Choosing a great domain name for your website isn't rocket science, but it is critical for search engine optimization, branding and marketing your business. In this series, we'll take a look at the tips and tricks used by professional digital marketers to choosing a great domain name. We'll look at the importance of domain names for your businesses' search engine optimization, how domain names and branding your company are related, and tips and tricks to creating search-engine friendly domain names. Our next post will examine keyword-rich domains, which we love and believe are helpful to our clients. Let's look first at domain names in general, and how a good domain name impacts your business.
What Is a Domain Name?
The domain name for a company is its website address. Domain names must be purchased from a domain name registrar, and they're generally purchased for a period of one to 10 years. At the end of the purchase period, you get the chance to renew your domain name or release it back to the registrar. Keep in mind that you can't buy a domain name for life; you always need to renew it at the end of its purchase or registration period.
Once you purchase your domain name, you have to register your contact information with the domain name provider. This helps them contact you in the event you need to renew your domain, or if there are questions about your domain itself.
After a domain name is purchased, it is set up through name servers to "point" the address to a specific web hosting company. The web hosting company is where your website's files are actually located.  You can also forward a domain name or redirect it to a website.
Domain Name Levels
Domain names are organized in tiers called levels. You're probably most familiar with what are called "top level" domains – web addresses like www.webdesignofpalmbeach.com.  ICANN, the organization created in 1998 to coordinate the internet's naming system, accepts several top-level domain endings. These include:
.net
.biz
.co
.info
.org
.gov
.edu
and others

Top-level domain names can also end in a country code. Many companies register domains in various countries including their home country.
Most websites are organized under the top level domain name, with sub-pages underneath the main domain.
Tips for Choosing a Great Domain Name
Domain names aren't expensive, and companies often register multiple domain names so that they have options for their websites. Here are several tips for choosing a great domain name:
Register your company's official names as the domain name first, and try to register it as a .com.
.com registrations remain the most common and the most recognized by consumers.
Look for bundles and package prices when registering your domain. Some companies offer discounts when you register the same phrase or words with different top-level endings. For example, you can register www.mywebsite.com, www.mywebsite.net and others for less money if you bundle them together than register each individually.
Consider registering commonly misspellings of your company name, too. If customers almost always drop off an "e" in your company name, register both the correct spelling (with the "e") and without the "e" so that no matter how they type the name in, you will have both registered.
Keep domain names short, sweet and memorable.
Consider registering your corporate name, brand names, trademarked product names and anything vital to your business interests as its own domain.
Have questions about registering your domain? Contact Web Design of Palm Beach. We're experts at web design, hosting and related questions. Call us at 561.262.5886