A few months back, I was approached by an existing client, who wanted to improve his company's home page search engine results. Several, of their inner pages were ranking fairly well based on the content that was originally supplied to me during the development phase of the site. Naturally, my first response to them was "Content, content, content!" Yup, we've all heard it over and over again; to get good rankings, you need good content. Even though these clients know their business inside and out, they were at a loss regarding "content". Let's face it, most business owners are not writers, and even if they were, there is a bit more to creating search engine friendly content –than simply stringing words together. Writing search engine optimized content is different from writing an email, a letter, or a note to a friend.
After a quick conversation with my client regarding his preferred search terms, I told him to leave it to me. I would see what I could do, with no promises.
Enter Copy Writing Services and Consulting.
I quickly contacted copy-writing expert Jeanne Grunnert of sevenoaksconsulting.com with this small project, explained our goals and proceeded to tackle this head on. Jeanne researched the topic and wrote a new home page for the client. Not only was the new home page optimized with the keyword terms used properly, but it was also readable. It wasn't like the typical "optimized" copy you see elsewhere that sounds like a robot wrote it. It sounded like one person speaking to another, yet used the keywords well.
After some initial research and several small revisions, we had brand new copy for my client's homepage.
 Successful Search Engine Results in Just Three Months
After three months, we checked in on our new page, searching for the specific keywords used in the content. Lo and behold, that little home page with almost no previous visibility had risen to the top of the search results, returning listings in the number 2 and 3 positions on the first page of results.
Needless to say my client is happy, and we are happy as well!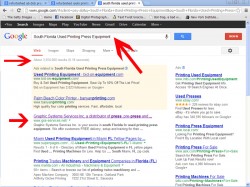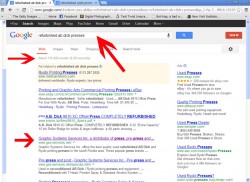 There's More to Effective SEO than Meets the Eye!
There's more to getting better search engine rankings than simply modifying your content, but this is a good first step. Coupled with proper coding and meta-tagging, you should be well on your way to better rankings, Contact me today to learn more or to inquire about having us create compelling search engine friendly content for your site.